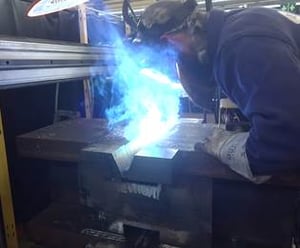 Despite its widespread use, welding is a complex technology. In fact, a lovely external appearance does not necessarily indicate good-quality welding.
We can develop or analyse welding procedures with a view to producing a demonstrator or identifying areas for optimisation.
To do this, the laboratory is equipped with conventional and innovative processes, but can also acquire equipment (through hire / partnership) to adapt to your requirement:
TIG (manual, automatic linear, etc.),
Orbital TIG (open head),
MIG-MAG (conventional technologies and controlled low and high energy regimes),
Submerged arc,
Shielded metal arc (manual, automatic, etc.),
Resistance welding.
If you want to qualify your welding consumables, we propose qualifications in accordance with, ASME, RCC-M and different applicable standards.